Community Vitality
A community's sustainability depends on its long-term ability to meet residents' needs. K-State Research and Extension can play a key role in helping people create a vision across traditional geographical, sociological, and political boundaries.
As Henry Ford said "Coming together is a beginning; keeping together is progress; working together is success."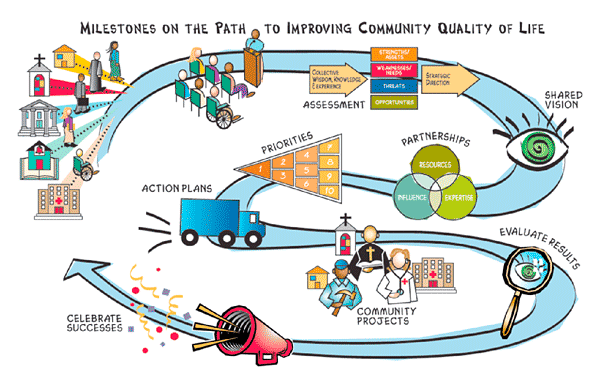 Community Vitality News
Community Projects
For 147 years, Little Stranger Church has served as a place of worship, a meeting place, a community center, and a cultural landmark. For those with ties to the surrounding area, it is a physical manifestation of their heritage. The church is currently closed and in need of repair, but community members are making improvements and raising money for restoration.
Barn Quilts are quilt blocks painted and hung on farm buildings or fences. The quilt blocks are often painted by the resident of the farm or home where they are displayed. The Glacial Hills Quilt Trail was established in October of 2015. The trail currently incorporates barn quilt blocks in Leavenworth, Jackson, Jefferson, and Douglas counties.