What is a Master Gardener?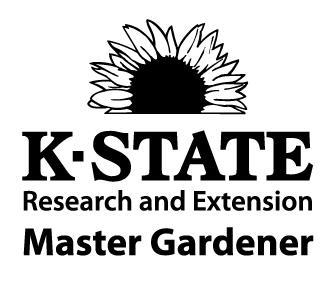 The Master Gardeners are a volunteer organization of specifically trained individuals designed to provide the public with sound horticultural information. The Master Gardener organization has become a vital part of local County Extension Office's abilities to provide up to date, reliable knowledge so consumers can enjoy and protect the value of horticulture around their homes. Master Gardening has become a fun and useful volunteer activity in the local Leavenworth area!
How do you become a Master Gardener?
Complete the annual Master Gardener course which begins in September and runs through November. Training is every Tuesday from 9 am to 4 pm at the Wyandotte County Extension office. Applications are accepted until the end of August. Cost of the training is $100 which includes the complete Master Gardener Handbook, t-shirt and name badge.
40 hours of basic horticulture training are taught in these weekly courses, conducted by Kansas State University horticulturists or other qualified professionals.
Upon completion of the course you are required to contribute 40 hours of volunteer work in Leavenworth Master Gardener projects during the first year.