4-H Youth Development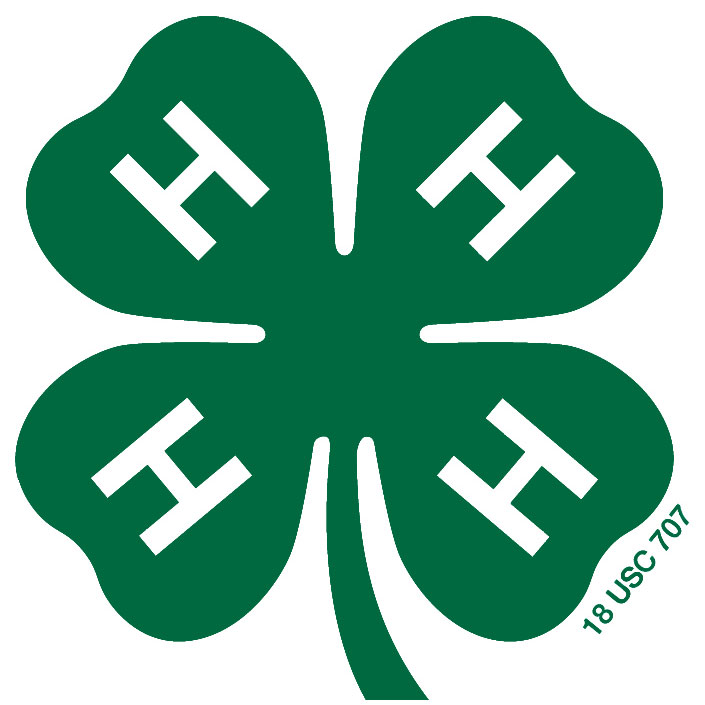 4-H is a nationwide program led by state land-grant universities in cooperation with local county/district extension councils. In Kansas, 4-H is the largest youth educational program, aside from public schools. Each of the four H's on the clover represent ways youth can grow and develop in 4-H:
Head: critical thinking, problem solving;
Heart: self-discipline, integrity, communication;
Hands: serving others; and
Health: choosing healthy lifestyles.
In 4-H, youth have fun with a purpose!
4-H Club News 2020
The Reno Bobwhites 4H Club met on September 3 in the beef barn. There was no Cloverbud meeting. Gavin Eastburn gave a presentation on his dogs and Elijah Hinrichsen read 2 poems. Abigail Marah, Annalise Schuetz, Emerson DeGraeve, Sofia Eastburn, and Samuel Manus all did virtual presentations that were posted to the club Facebook page. The club also elected some of its new officers for the next 4H year. They were: Benjamin Manus (President); Cadence Dare (Vice-President); Elijah Jones (Treasurer); and Samuel Manus and Cadence Dare (County Council). The installation of senior officers and election for junior officers will be at the next meeting on October 1 in the beef barn.
Benjamin Manus
Reporter, Reno Bobwhites
=========================================================================================================
The Glenwood 4-H Club's monthly meeting was held on October 11, 2020 at the Basehor City Park and Zoom option was available. Roll Call was "What is your favorite Halloween Candy"? We had 48 members present and 6 new guest. Exciting News – Katie Lueck is going to start a Cloverbud activity for all of our Cloverbuds. Birthday this month were Helen Habjan and Gracie Bailey. Projects talks were given by Helen Habjan and Abby Atteberry. Song Leaders lead us on the Monster Mash and Recreation Leaders did a Haunted Charades. Due to Covid-19 we couldn't have our annual Haunted Hayride. Meeting was adjourned!
Bryce Langford
Glenwood 4-H Club Reporter
============================================================
The Boling 4-H Club held a meeting on May 11. Due to the COVID-19 virus, the State 4-H office said that we cant meet as a group until after July 4. So the meeting was on Zoom (internet).We did not hold a meeting in April, so this was considered a combined meeting. Most of the members were present and there were four visitors. The visitors were Tucker and Logan Simpson and Daxton and Boone Kessler.
All officers gave their regular reports. The fundraising committee listed some potential events. Mr. Hunsecker explained there was a possibility of mowing a public cemetery from June to October. It would have to be mowed every two weeks. The Club also discussed a making lunch plates at TSC.
The Vice President presented the program; there were four presenters. Paisley Crow did a woodworking project talk. She explained the process of choosing the wood and how she built it. Mitchell Waters and Tucker Simpson did a demonstration on making cookies using a cake mix instead of cookie dough. Shiloh Frederick gave a demonstration on how to use a microscope and then showed several items she has to look at. Allison Murphy gave a demonstration on some of her dance moves.
The leaders and Ms. Murphy talked about what the County Fair might look like, but no decisions have been made. Mr. Magee presented the Senior Scholarship to Logan Buffo. Then the meeting was adjourned.
Respectfully submitted for publication
Paisley Crow
Club Historian
============================================================
Leavenworth County 4-H Youth Leaders
October 7, 2020 @ 7:15pm
The Leavenworth County 4-H Youth Leaders had their FIRST meeting since February 2020, when Covid-19 hit. Although things are going to do some changing this year, we are still looking forward to a Fun and Exciting Year!!!
Election of Officers this year: President Emma Murphy, Vice President Isaiah Manus, Secretary Samuel Manus, Treasurer Benjamin Manus, Reporter Ethan Langford, Council Reps Katie Schmidt, Caden Guthrie and Charley Jo. If you are looking for another Record Book Check, come and join us February 18, 2020 via Zoom Meeting.
Ethan Langford, Glenwood 4-H
LVCO Youth Leader Reporter

=========================================================================================================
4-H Focus Newsletter
2020 Issues
2019 Issues