4-H Youth Development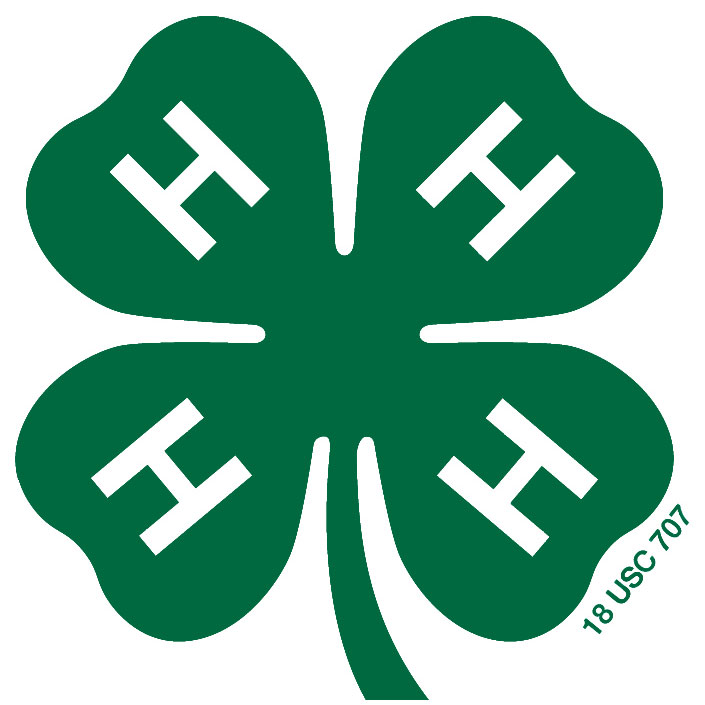 4-H is a nationwide program led by state land-grant universities in cooperation with local county/district extension councils. In Kansas, 4-H is the largest youth educational program, aside from public schools. Each of the four H's on the clover represent ways youth can grow and develop in 4-H:
Head: critical thinking, problem solving;
Heart: self-discipline, integrity, communication;
Hands: serving others; and
Health: choosing healthy lifestyles.
In 4-H, youth have fun with a purpose!
_________________________________________________________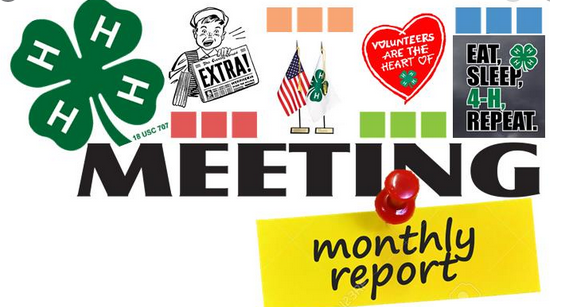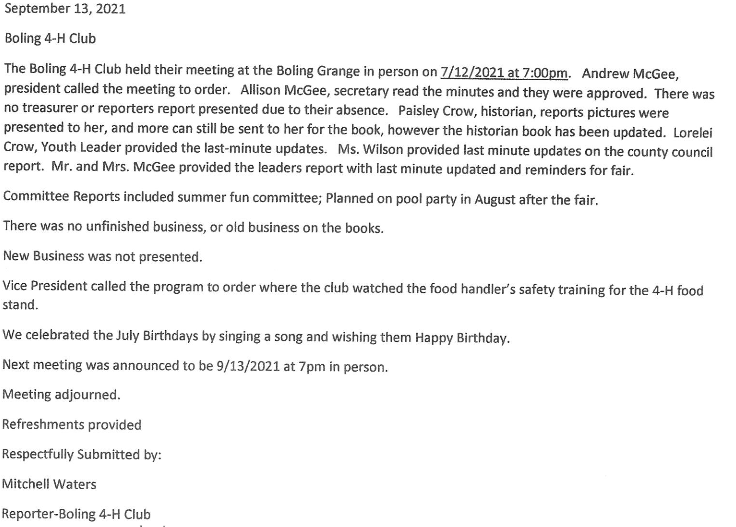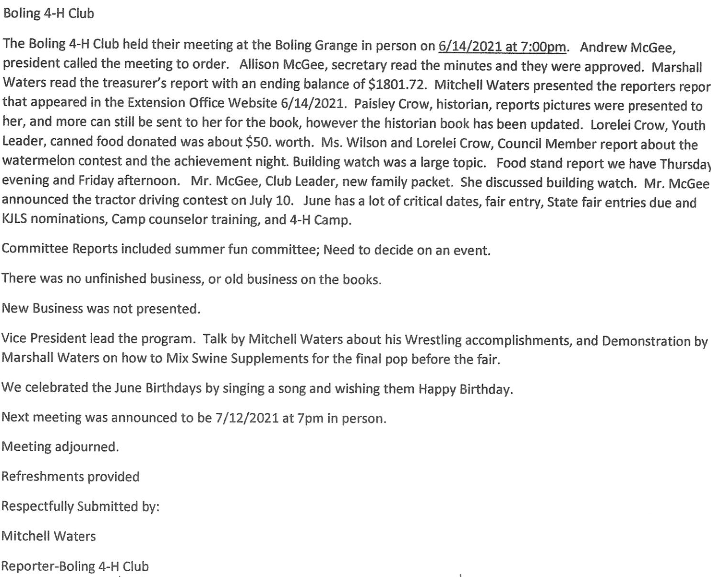 ========================
GLENWOOD 4-H CLUB
The Glenwood 4-H Club's monthly meeting was held on September 12, 2021 at the Leavenworth County Fairgrounds Brown Building. It was a cool evening so we decided to meet outside and social distance. Our September Meetings always run a little longer due to Election Night. Roll Call was "What are you looking forward to Next Year?" We had 50 members present and 1 New Guest. After Officer and Leader Reports were finished, Recreation started elections off with an Animal Charades Game with the President and Vice President Candidates. It was a lot of fun watching the old members act out different animals and set the mood for elections. Our New Club Officers for the 2021-2022 4-H Year are: President - Mary Habjan, Vice President - Helen Habjan, Secretary - Peyton Blizzard, Treasure - Madelyn Lueck, Jr President - Taelynn Peter, Jr Vice President - Emmett Ahlquist, Jr Secretary - Allison Myers, Jr Treasure - Charlie Peek, Pledge Leaders - Amos Ahlquist & Oliver Douthit, Song Leaders - Gracie Bailey & Bristyn Peter, Birthday Leaders - Adelaide Zenger & Mason Langford, Recreation Leaders - Greyson Zenger & Tristan Smith, Reporter - Bryce Langford, Historian - Ethan Langford, Parliamentarian - Wilson Lueck, 4-H Council Reps - Jack Habjan, Connor Blizzard & Hank Hunter. We also have a New Club Leader; Katie Lueck. After elections, the club voted and approved to be in the Basehor Homecoming Parade. The club is still working on details for our upcoming October Halloween Meeting and National 4-H Week and Beyond. September Birthdays were Amos Ahlquist, Morgan Bailey, Andrew Norman, Abby Owens, Henry Peek, Banks Peter, Tristan Smith, Ella Timmer and Travis Tinberg. Project Talks were given by Amos Ahlquist, Andrew Norman, Tristan Smith and Ella Timmer. The Song Leader read us a poem about Thankful America. Announcements were made about Record Books are due to Club Leaders on or before September 24, 2021 and to look for more information on our Clubs Facebook Page. Meeting was adjourned.
Bryce Langford
Glenwood 4-H Club Reporter
========================
LVCO YOUTH LEADERS
The Leavenworth County Youth Leaders met on August 19, 2021 @ 6:30pm, Achievement Night. Roll Call was taken by sign up sheet. All Youth Leaders present talked briefly about their most memorable leadership experience or lesson this year and a leadership goal for next year. It was also announced that there is talk about combining the Youth Leaders with the County Council. This would help with less meetings and the Youth Leaders could still keep doing their events like Day Camp and the Food Drive and/or Cookie Drive. All questions or concerns were asked to go to Sonya Murphy with the Extension Office. Meeting was adjourned and Youth Leaders enjoyed Casey's Pizza!
Ethan Langford
Leavenworth County Youth Leader - Reporter