4-H Youth Development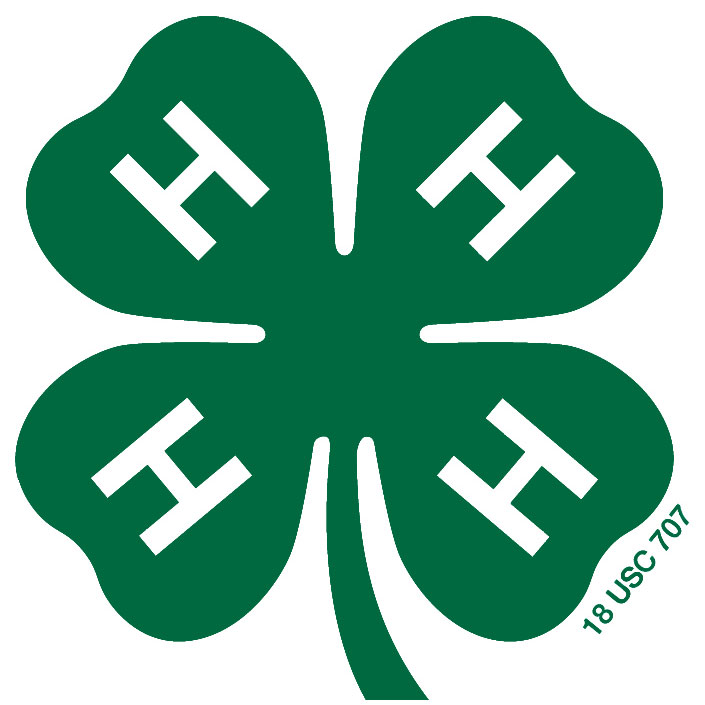 4-H is a nationwide program led by state land-grant universities in cooperation with local county/district extension councils. In Kansas, 4-H is the largest youth educational program, aside from public schools. Each of the four H's on the clover represent ways youth can grow and develop in 4-H:
Head: critical thinking, problem solving;
Heart: self-discipline, integrity, communication;
Hands: serving others; and
Health: choosing healthy lifestyles.
In 4-H, youth have fun with a purpose!
4-H Club News 2019
The monthly meeting of the Reno Bobwhites 4-H club was held at 7:30 pm on December 5th, 2019. To start the meeting, Benjamin Manus, Gracie Foster, Lilly Rhodelander, Elijah Henrichsen, and Samuel Manus participated in a skit about the 4-H pledge/flag salute. Aidan Boone acted as the secretary and took role. Amiya Bremer gave the treasurer's report. Elijah Hinrichsen and Lilly Rhodelander gave presentations. Gracie Foster reviewed the club's constitution and no changes were made. Before the meeting, Benjamin Manus and Isaiah Manus led the Cloverbuds in making snowmen Christmas decorations. The leaders reminded everybody to enroll in 4-H and for 11/12 year olds and up to consider signing up for the leadership project because it is necessary for high-level pins and awards. Also the club was reminded that the Youth Leader cookie drive is on December 12 from 4:30 to 6:15 pm. and the Club Christmas party is at 6:30 pm on Saturday, December 14th. The next meeting is January 2d, 2020.
Benjamin Manus
Reporter, Reno Bobwhites 4-H Club
_____________
The Leavenworth County Youth Leader's 4-H Club did not have an official meeting, but got together on December 12th from 4:30-6:15 pm at the 4H building to collect and package cookies for the holiday baskets that the Good Shepherd Thrift Store and Food Bank passes out. Members of six different 4-H clubs in the county donated and packaged over 50 dozen cookies. Thank you to everyone who supported this project – we met the need!!!
Isaiah Manus
Reporter
Leavenworth County Youth Leader's 4-H Club
___________
The monthly meeting of the Glenwood 4-H Club was called to order on October 13, 2019 at 5:30PM. There were 48 members present with 7 new guests. Leaders advised all members to get online and enroll as soon as possible. 4-H Achievement Night was announced to the club for members completing Record Books this year. October Birthday were: Helen Habjan and Julia Hunter with Project Talks by: Ella Timmer, Helen Habjan and Julia Hunter. Song Leaders sung Old McDonald Had a Farm. Recreation was our Haunted Hayride. New Members Initiated were Reed Rochel and Elsie Rochel. Announcements make sure you signed up for Committees, Refreshments/Clean Up Crew and Project Leaders this year. A special Thanks to all 4-Hers that walked in the Basehor Homecoming Parade. Families that helped with Feed His Lambs this month were: Langford, Koester, Peek and Douglas Families. Refreshments were supplied by the Glenwood 4-H Club and all families helped clean up after the meeting.
Bryce Langford
Glenwood 4-H Club Reporter
_______________
The monthly meeting of the Boling 4-H Club was called to order on Sep 9th at 7PM. Flag bearers were Daniel Lowe and Alison Murphy. There were ten members present. Election of officers for 2019-2020 4-H year were held and they will be installed at our October meeting. New Officers: President, Logan Buffo; Vice President, Andrew Magee; Secretary, Allison Magee; Treasurer, Lorelei Crow; Reporter, Emma Lowe; Historian, Paisley Crow; and Recreation Teams, Allison & Anna Murphy and Carlos Wilson & Daniel Lowe.
Kaitlyn Magee demonstrated her Wild Mustang Freestyle Program. She will be in the Wild Mustang Horse Show in Hutchison. Under New Business, The Boling Club Reunion will be held Sep 29th from 4 - 7, at the Boling Grange building with a potluck dinner. The Club will be working at Renaissance Festival on Sep 28 as a fundraiser. Tractor Supply Company has requested the Club to assist with Fall Clover Days. The Club will have a BBQ lunch plate available from 11;00 - 1:00 for customers (donations welcome), assist customers with carryout and promote 4-H clubs and activities. Proceeds from the Paper Clovers support all Clubs in the county. Carlos Wilson, Kaitlyn Magee and Anna Murphy celebrated birthdays this month.
Respectfully submitted for publication
Lorelei Crow
Boling 4-H Club Reporter
=================================================================
4-H Focus Newsletter
2020 Issues
2019 Issues

2018 Issues
2017 Issues