4-H Youth Development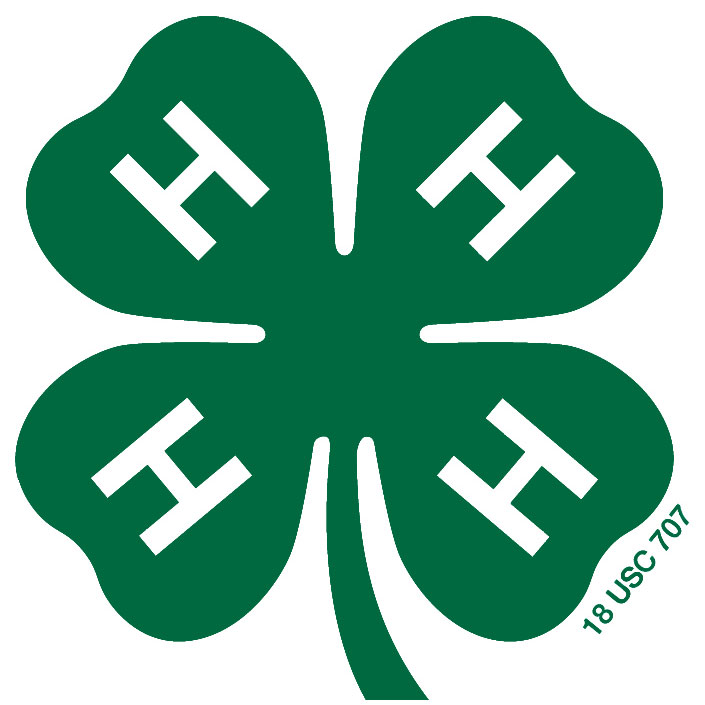 4-H is a nationwide program led by state land-grant universities in cooperation with local county/district extension councils. In Kansas, 4-H is the largest youth educational program, aside from public schools. Each of the four H's on the clover represent ways youth can grow and develop in 4-H:
Head: critical thinking, problem solving;
Heart: self-discipline, integrity, communication;
Hands: serving others; and
Health: choosing healthy lifestyles.
In 4-H, youth have fun with a purpose!
_________________________________________________________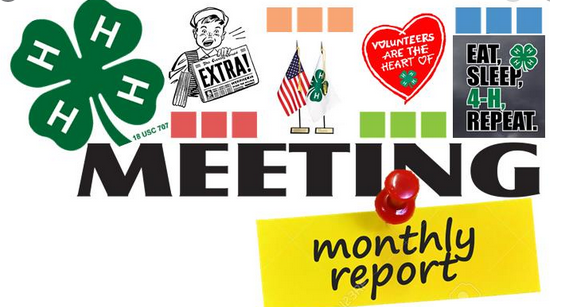 The Basehor Rustlers 4-H club's monthly meeting was on November 15th 2021 at the Basehor VFW. It was at the meeting that the new officers got to train for their office. We agreed to do the Adopt a child. We did not have any birthdays. Our roll call question was "what is your favorite thanksgiving food." We then did our pledges and our song leader Anna Celeen led a song called "5 little turkeys sitting on a fence." Meeting Adjourned.
Paige Vermilye
======================================
November 8, 2021
The Boling 4-H Club held their meeting at the Boling Grange in person on 10/11/2021. Andrew McGee, president called the meeting to order. Flag barriers, Mitchell and Kai lead us in the pledge . Allison McGee called roll for my favorite fall dessert. Allison McGee, secretary read the minutes and they were approved. There were no correspondence There was treasurers report was presented by Marshall Waters, with a balance of $1824.53. Mitchell Waters provided the reporters report. Paisley Crow, historian, the historian book has been updated and turned in. No report for junior leaders, due to no more meetings. They will plan on a Leadership Camp and Food drive and cookie drive. County Council report stated they had election of officers, achievement night. Ms. McGee provided the leaders report with reminders about enrollment for the 2022 4-H year, and to voted to pay for the club to pay for the membership. Reminder about Livestock Judging Clinic on 12/4/2021, Leadership Camp November 20-21, County Achievement Night 11/6/2021, And the reminder about the tractor driving event this coming weekend. Ms. Murphy stated that if you are interested in 4-H Camp to please talk to her.
Committee Reports: Fundraising Committee stated that there was an issue with the proceeds, so they are working out how much money was received.
The unfinished business was the election of officers. President: Allison McGee; Vice President Lorelei Crow; Secretary: Paisley Crow; Recreation Leaders are Mitchell Waters, Korbin Reckers; and Scottlynn Frederick; Reporter is Anna Murphy; Historian Shiloh Frederick and Allison Murphy, and Parliamentarian Carlos Wilson.
New Business was presented.
As membership enrollment for 2022 4-H year be reimbursed/paid for by the club motion passed; Release of funds for the payment of the fair premiums for the 2021 fair, motion passed; and destroying the ballets after voting, motion passed.
Vice President called the program to order.
Program was the Club Achievement Night, where each member stood up and showed their ribbons and how the did at the fair.
We celebrated the October Birthdays by singing a song and wishing them Happy Birthday.
Next meeting was announced to be 11/8/2021 at 7pm.
Meeting adjourned.
Refreshments provided by the club families for the Annual Potluck.
Respectfully Submitted by:
Mitchell Waters
Reporter-Boling 4-H Club
=======================
The Livewires 4H club met December 13. The evening started with program and budget committee meetings at 6:30. The meeting started at 7:00. The pledges were led by Emma Kelly and Andrea Barbosa. Andrea B. led the club in singing "Rudolph, the Red Nosed Reindeer." Roll call was "Will it snow on Christmas?" Guests were the Diliberto family. The club members talked about t-shirt designs and colors. Everyone needs to email Katie Kelly with shirt sizes. The program was officer training. Recreation was "Duck, Duck, Goose." 4Her of the Month was Wyatt Marshall. Announcements were the LVBIA spring beef show date of May 7, 2022. The program was read for the January 10, 2022 meeting. Meeting was adjourned and everyone enjoyed refreshments.
Reporter Andi Parsons
========================
GLENWOOD 4-H CLUB
The Glenwood 4-H Club's monthly meeting was held on December 12, 2021 at the LVCO Fairgrounds Brown Building. Roll Call was "What do you want for Christmas?" There were 44 members present, 3 of which were initiated this month. Our Club just keeps getting bigger!!! The Glenwood 4-H Club has a lot of events and activities coming up; Youth Leaders Food Drive, Wreath Across America, 4-H Club Days and a Club Rewards Fun Day. The Club is working on reviewing our Club Bylaws and Constitution for the new year and our New Members Committee is working on New Member Packets. It is a busy time of year. December Birthdays were Connor Blizzard, Austyn Carmitchel, Gage Coffman, Nick Doering, Mary Habjan, Allison Myers, and Konnor Roach. Project Talks were given by Connor Blizzard, Gage Coffman, Nick Doering, Allison Myers and Bryn Hermreck. Song Leaders led us in Jingle Bells, Recreation was Cotton Ball Relay Race and the Club Event Committee provided refreshments! Announcements: If you haven't collected your Fair Premium Money, please see Madeyln Lueck. If you haven't collected your 4-H Enrollment Reimbursement, please see Laura Peek. If you haven't Enrolled yet, please do so. Meeting was adjourned.
Bryce Langford
Glenwood 4-H Club Reporter
Happy Helpers met on December 8, 2021. Roll call was answered by what your favorite thing is about winter. There was 1 guest at this meeting. We had a candy bar exchange. We made a committee to discuss what our club will bring to club days. We also discussed how the shopping for the adopted families went and the holiday party.
Happy Helpers met on November 10, 2021. Roll call was answered by what your favorite thanksgiving food is. We planned to adopt families for Christmas and to have a club holiday party at Crown Lanes in Leavenworth. We voted on a new t-Shirt design.
========================================================
Isaiah Manus called the Reno Bobwhites November meeting to order at 7:30 on November 4, 2021. For roll call each member stated one thing they achieved at the fair this past year and new members stated a goal for the upcoming year. The club provided pizza, water, and desserts to celebrate club achievements. Shannon Reischman reminded members of the December livestock judging contest. Gretchen Manus reminded members and new members to check various sign-up sheets at the meeting to prepare for the new year. Serenity moved to adjourn the meeting and it was seconded.
Reporter: Liam Marquette, Reno Bobwhites
=========================================
LVCO YOUTH LEADERS
The Leavenworth County Youth Leaders met on August 19, 2021 @ 6:30pm, Achievement Night. Roll Call was taken by sign up sheet. All Youth Leaders present talked briefly about their most memorable leadership experience or lesson this year and a leadership goal for next year. It was also announced that there is talk about combining the Youth Leaders with the County Council. This would help with less meetings and the Youth Leaders could still keep doing their events like Day Camp and the Food Drive and/or Cookie Drive. All questions or concerns were asked to go to Sonya Murphy with the Extension Office. Meeting was adjourned and Youth Leaders enjoyed Casey's Pizza!
Ethan Langford
Leavenworth County Youth Leader - Reporter