4-H Youth Development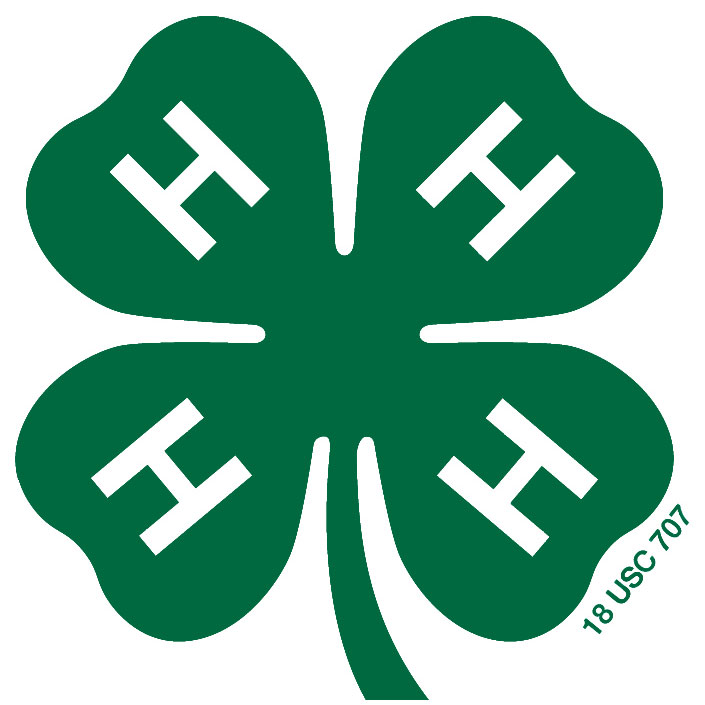 4-H is a nationwide program led by state land-grant universities in cooperation with local county/district extension councils. In Kansas, 4-H is the largest youth educational program, aside from public schools. Each of the four H's on the clover represent ways youth can grow and develop in 4-H:
Head: critical thinking, problem solving;
Heart: self-discipline, integrity, communication;
Hands: serving others; and
Health: choosing healthy lifestyles.
In 4-H, youth have fun with a purpose!
_________________________________________________________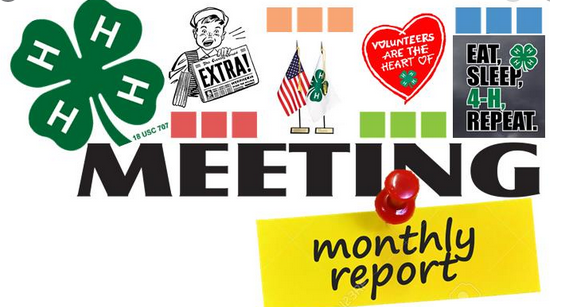 Paige Vermilye - Basehor Rustlers 4-H Club
The Basehor Rustlers 4-H club's monthly meeting was on December 20th 2021 at the Basehor VFW. There were not as many people there since it was on christmas break. We did our pledges. Our attendance question was "what do you want for christmas." Meeting Adjourned.
======================================
November 8, 2021
The Boling 4-H Club held their meeting at the Boling Grange in person on 10/11/2021. Andrew McGee, president called the meeting to order. Flag barriers, Mitchell and Kai lead us in the pledge . Allison McGee called roll for my favorite fall dessert. Allison McGee, secretary read the minutes and they were approved. There were no correspondence There was treasurers report was presented by Marshall Waters, with a balance of $1824.53. Mitchell Waters provided the reporters report. Paisley Crow, historian, the historian book has been updated and turned in. No report for junior leaders, due to no more meetings. They will plan on a Leadership Camp and Food drive and cookie drive. County Council report stated they had election of officers, achievement night. Ms. McGee provided the leaders report with reminders about enrollment for the 2022 4-H year, and to voted to pay for the club to pay for the membership. Reminder about Livestock Judging Clinic on 12/4/2021, Leadership Camp November 20-21, County Achievement Night 11/6/2021, And the reminder about the tractor driving event this coming weekend. Ms. Murphy stated that if you are interested in 4-H Camp to please talk to her.
Committee Reports: Fundraising Committee stated that there was an issue with the proceeds, so they are working out how much money was received.
The unfinished business was the election of officers. President: Allison McGee; Vice President Lorelei Crow; Secretary: Paisley Crow; Recreation Leaders are Mitchell Waters, Korbin Reckers; and Scottlynn Frederick; Reporter is Anna Murphy; Historian Shiloh Frederick and Allison Murphy, and Parliamentarian Carlos Wilson.
New Business was presented.
As membership enrollment for 2022 4-H year be reimbursed/paid for by the club motion passed; Release of funds for the payment of the fair premiums for the 2021 fair, motion passed; and destroying the ballets after voting, motion passed.
Vice President called the program to order.
Program was the Club Achievement Night, where each member stood up and showed their ribbons and how the did at the fair.
We celebrated the October Birthdays by singing a song and wishing them Happy Birthday.
Next meeting was announced to be 11/8/2021 at 7pm.
Meeting adjourned.
Refreshments provided by the club families for the Annual Potluck.
Respectfully Submitted by:
Mitchell Waters
Reporter-Boling 4-H Club
=======================
The Livewires meeting started at 7:00 Monday June 13, 2022. Isaac and Anthony led the club in the Pledge of Allegiance and the 4H Pledge. Wyatt led the club in the song "Twinkle, Twinkle, Little Star." Roll call was "My Favorite Month". The Parliamentarian and Treasurer gave their reports. The Summer Activity Committee met and decided on a cookout at the Marshall Farm Oct. 10 at 6:00 pm. Mrs. Gilmore gave a talk on Banking: Debit cards, savings accounts, and checking accounts. The club watched the "Food Safety" video. 4Her of the month was Andi, read by David, and guessed by Emma Kelly. There were 5 June Birthdays. We skipped recreation. July is our Virtual Club Tour and root beer floats.
Livewires Reporter Andi Parsons
========================
GLENWOOD 4-H CLUB
The Glenwood 4-H Club's monthly meeting was held on Sunday, June 12, 2022 at 6:00, with a Fundraising Committee Meeting at 5:30. Roll Call was "What is your most exciting thing this summer"? There were 39 members present. Officers presented their Club Reports; Secretary and Treasure. No Reporter, Historian, Song Leader or Parliamentarian report. The County Council reported that the next meeting is coming up on June 27 and they will be pulling shifts for the 4H Food Stand and that the fair theme this year is Fun in the Sun. Leaders reported Fair Entry is OPEN - make sure you get everything entered in for the fair - Be sure to read all of the Project Rules and Guidelines when entering in projects and working on projects, All members need to watch the Food Safety Video that will be posted on Facebook - you can either comment that you watched it or email Laura Peek so they can keep record. If you missed it, Leaders will have the video available after the July Meeting for members to watch, 4-H Camp is coming up, Fair Week is around the corner be watching for Building Watch Sign Ups, Food Stand Sign Ups and Ice Cream Trailer Sign Ups, and we will have a NORMAL 4-H Meeting on July 10, 2022 at the Basehor City Park @ 6:00 to make sure everyone is ready for the Fair. The Club Events Committee reported that they would like to plan a Pool Party in the month of August, details will go out on a date soon and they also want to plan on Pizza and Drinks for the Club Tour at the Fair. The Fundraising Committee is looking to get going on purchasing supplies and lining out things for the Ice Cream Trailer, they will save receipts and turn them in after the fair week. Scholarship Committee reported that they have come up with a Scholarship Application for Senior Members to fill out. The Parents Advisory Committee reported that they went over the Ice Cream Trailer Agreement but nothing has been finalized yet. During Old Business, Katy Langford reported that Gary Jons had bids on the Roy Jons Memorial Picnic Tables and that we might want to increase the budget to cover the cost. Kelsi Bailey reported that if you haven't turned in your T-Shirt size you need to do so by tonight, so that we can have shirts by fair time. New Business Club voted and approved for a $200 Senior Scholarship per member for seniors that fill out the Scholarship Application, Club voted and approved a Pool Party for members with a date to come, Club voted and approved for Pizza and Pop for our Club Tour and Club amended to increase the Roy Jons Memorial Picnic Tables for 1 or 2 tables without going on a $2000 budget. Gary Jons reported that Katy Langford purchased flowers for Charlene Millsap's funeral and was looking to reimburse her for this expense, Club voted and approved to reimburse the $100. Club also voted and approved to reimburse Katie Lueck $50 for copies and for Cloverbud supplies. June Birthdays were Addison Douglas, Hank Hunter, Lorelai Zenger. Project Talks were given by Elsie Hermreck, Pate Parson, Lorelai Zenger and Ellie Owens. Recreation was the Playground after the meeting. Announcements were to make sure you get Kelsi Bailey your shirt sizes, Clothing Projects questions can go to Paula Blizzard or Bryn Peter and Katy Langford addressed how the Parents Advisory Meeting went and discussed the Ice Cream Trailer Agreement. Refreshments were provided by Snacks:Jons, M&J Bailey. Drinks: Doering, Coffman, Tollett. The Clean Up Crew was ALL.
Meeting was adjourned.
Parents and Senior Members met after the meeting to discuss the Ice Cream Trailer Contract!
Bryce Langford
Glenwood 4-H Club Reporter
Happy Helpers met on March 9, 2022. 17 members were present. Roll call was answered by "what are you looking forward to doing for spring break?" We voted to go with Reno Bobwhite 4-H Club on April 6th to tour the Basehor Historical Society. Happy Helpers will supply cookies to all who attend. On March 12th we are planning to walk in the Tonganoxie St Patrick's Parade. April 23rd we are going to do another membership drive at the soccer game at 8:45. June 11th we are going to Harvesters in Topeka from 1-3. Lusien gave a talk about legos. We had 2 March birthdays. The next meeting will be April 13, 2022 at 7pm.
========================================================
FEBRUARY
Isaiah Manus called the Reno Bobwhites February meeting to order at 7:32 pm on February 3, 2022. Melody Myer and Lily Rhodelander led the US pledge and 4-H pledge. Sully Chance gave a project talk on bearded dragons. Grady Chance gave a project talk on how to make guacamole. The club reviewed parliamentary procedure tips, led by the Jones brothers. Jill DeGraeve announced Reno Bobwhites will be hosting a Bucket Calf Clinic and Show on June 12. Gretchen Manus reminded the club that any members intending to show livestock at the fair will need YQCA training and Nicole will be leading a class immediately before the March meeting. Gretchen also announced there would be a swine clinic and woodworking meeting coming up. Gretchen informed the club that Tonganoxie Christian Church would be accepting meals for Mitch and Chelsi Myer Friday, February 4 from 12-2pm. Veda announced she was organizing a card drive for the Myer family. Elijah Hinirichsen moved to adjourn the meeting. The motion was seconded and passed.
MARCH
Isaiah Manus called the Reno Bobwhites March meeting to order at 7:35 pm on March 3, 2022. Lilly Rhodelander gave a project talk on Jewels. Nicole Hinrichsen announced they needed volunteers to help with the Bucket Calf Clinic and Show our club is hosting on June 12. The club celebrated our 59th birthday. It was moved and seconded to adjourn the meeting. The motion passed.
APRIL
Isaiah Manus called the Reno Bobwhites April meeting to order at 7:31 pm on April 7, 2022. Connor Lau gave a project talk on gun safety. Gavin Eastburn gave a project talk on fishing. Sofia Eastburn gave a project talk on mug cakes. Emmersyn DeGraeve read two poems on horses. Elijah Jones presented parliamentary tips. Veda Alverez gave the county council report. Isaiah Manus did cloverbud packets on the 4-H pledge. The Eastburns and O'Hare families hosted the meeting. It was moved and seconded to adjourn the meeting. The motion passed.
MAY
Isaiah Manus called the Reno Bobwhites May meeting to order at 7:30 pm on May 5, 2022. Corbin Reischman and Cole Marah led the US and 4-H pledge. Veda Alvarez gave a project talk on Citrus peel cleaners. Corbin Reischman gave a project talk on 4-Wheeler safety. Nora Johnson gave a project talk on Nathanael and Gabriel Jones gave parliamentary tips. Gretchen reminded the club to sign up for the fair next month. Gretchen also reminded the club to sign up for future 4-H meetings cloverbuds and hosts. Nicole asked club members to sign up to bring food and volunteer to help at the bucket calf clinic our club is putting on. The club recognized Benjamin Manus, Nathanael and Grabriel Jones as graduating seniors. Corbin Reishcman moved to adjourn the meeting. It was seconded and the motion passed.
JUNE
The June meeting was canceled due to multiple schedule conflicts.
Reporter: Liam Marquette
=========================================
The Leavenworth County Goat Club me on March 8, 2022. 18 members were present. We talked about all the fundraisers we have going on, and past out flyers on the t-shirts and sponsorships. The t-shirt forms are to be mailed or brought to a meeting for Carrie Koch. And the sponsorship forms can be mailed to the extension office. Weigh-in will be on May 1st and 2nd times are to be announced at a later date. Our program for the night was on 'show supplies'. We will have another goat meeting on March 20th at 1pm at the Bracken's Farm.
=============================================
4-H Focus Newsletter
2022 Issues
2021 Issues
2020 Issues